Posts for: June, 2017
By Dr. Rosanne M. Palermo
June 21, 2017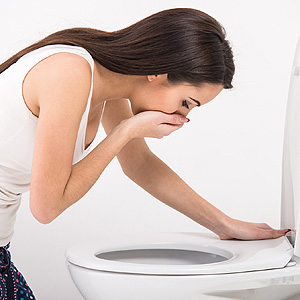 Sometimes dental conditions point to health problems beyond the teeth and gums. An astute dentist may even be able to discern that a person's oral problems actually arise from issues with their emotional well-being.  In fact, a visit to the dentist could uncover the presence of two of the most prominent eating disorders, bulimia nervosa or anorexia nervosa.
Here are 3 signs dentists look for that may indicate an eating disorder.
Dental Erosion. Ninety percent of patients with bulimia and twenty percent with anorexia have some form of enamel erosion. This occurs because stomach acid — which can soften and erode enamel — enters the mouth during self-induced vomiting (purging), a prominent behavior with bulimics and somewhat with anorexics. This erosion looks different from other causes because the tongue rests against the back of the bottom teeth during vomiting, shielding them from much of the stomach acid. As a result, erosion is usually more severe on the upper front teeth, particularly on the tongue side and biting edges.
Enlarged Salivary Glands. A person induces vomiting during purging by using their fingers or other objects. This irritates soft tissues in the back of the throat like the salivary glands and causes them to swell. A dentist or hygienist may notice redness on the inside of the throat or puffiness on the outside of the face just below the ears.
Over-Aggressive Brushing. Bulimics are acutely aware of their appearance and often practice diligent hygiene habits. This includes brushing the teeth, especially after a purging episode. In doing so they may become too aggressive and, coupled with brushing right after purging when the minerals in enamel are softened, cause even greater erosion.
Uncovering a family member's eating disorder can be stressful for all involved. In the long run, it's best to seek out professional help and guidance — a good place to start is the National Eating Disorders Association (www.nationaleatingdisorders.org). While you're seeking help, you can also minimize dental damage by encouraging the person to rinse with water (or a little baking soda) after purging to neutralize any acid in the mouth, as well as avoid brushing for an hour.
If you would like more information on the effect of eating disorders on oral health, please contact us or schedule an appointment for a consultation. You can also learn more about this topic by reading the Dear Doctor magazine article "Bulimia, Anorexia & Oral Health."
By Dr. Rosanne M. Palermo
June 06, 2017
Magician Michael Grandinetti mystifies and astonishes audiences with his sleight of hand and mastery of illusion. But when he initially steps onto the stage, it's his smile that grabs the attention. "The first thing… that an audience notices is your smile; it's what really connects you as a person to them," Michael told an interviewer.
He attributes his audience-pleasing smile to several years of orthodontic treatment as a teenager to straighten misaligned teeth, plus a lifetime of good oral care. "I'm so thankful that I did it," he said about wearing orthodontic braces. "It was so beneficial. And… looking at the path I've chosen, it was life-changing."
Orthodontics — the dental subspecialty focused on treating malocclusions (literally "bad bites") — can indeed make life-changing improvements. Properly positioned teeth are integral to the aesthetics of any smile, and a smile that's pleasing to look at boosts confidence and self-esteem and makes a terrific first impression. Studies have even linked having an attractive smile with greater professional success.
There can also be functional benefits such as improved biting/chewing and speech, and reduced strain on jaw muscles and joints. Additionally, well-aligned teeth are easier to clean and less likely to trap food particles that can lead to decay.
The Science Behind the Magic
There are more options than ever for correcting bites, but all capitalize on the fact that teeth are suspended in individual jawbone sockets by elastic periodontal ligaments that enable them to move. Orthodontic appliances (commonly called braces or clear aligners) place light, controlled forces on teeth in a calculated fashion to move them into their new desired alignment.
The "gold standard" in orthodontic treatment remains the orthodontic band for posterior (back) teeth and the bonded bracket for front teeth. Thin, flexible wires threaded through the brackets create the light forces needed for repositioning. Traditionally the brackets have been made of metal, but for those concerned about the aesthetics, they can also be made out of a clear material. Lingual braces, which are bonded to the back of teeth instead of the front, are another less visible option. The most discrete appliance is the removable clear aligner, which consists of a progression of custom-made clear trays that reposition teeth incrementally.
How's that for a disappearing act?!
If you would like more information about orthodontic treatment please contact us or schedule an appointment for a consultation. You can also learn more about the subject by reading the Dear Doctor magazine article "The Magic of Orthodontics."