Posts for: October, 2017
By Dr. Rosanne M. Palermo
October 27, 2017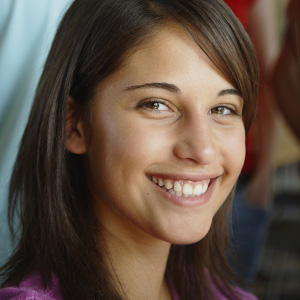 Losing a tooth affects not only your smile but your overall dental health too. A dental implant solves both issues: it replaces the whole tooth, including the root, to merge durability with a life-like appearance.
For teenagers with a missing tooth, however, an implant may not be a good idea, at least until they've physically matured. Although their permanent teeth have usually all come in by puberty, the jaws and facial structure continue to develop into early adulthood. An implant placed too early could appear misaligned when the jaw fully matures.
The best approach for teens is a temporary replacement until they're physically ready for an implant. There are two good options: a removable partial denture (RPD) or a fixed bonded bridge.
Common among adults, an RPD is also a viable replacement for a teenager's missing tooth. An RPD consists of a prosthetic (false) tooth set in a nylon or acrylic base that resembles gum tissue. Metal clips formed in the RPD fit over adjacent teeth to hold the appliance in place; this also makes it easy to remove for cleaning or sleep time. We typically recommend an acrylic base for teens because it's easier to adjust if the RPD's fit becomes loose.
To hold it in place, a traditional bridge uses crowns on either side of the replacement tooth to bond over the natural teeth next to the open socket. Because this requires permanently altering the support teeth, we recommend a bonded bridge that doesn't.
This modified bridge uses wing-like strips of dental material on the back of the false tooth that project outward. With the tooth in place, we bond the extending portions of these projections to the back of the adjacent teeth, which secures the false tooth in place.
Of the two options, the bonded bridge is more comfortable, buys the most time and looks the most natural. But it will cost more than an RPD. Bite issues, teeth grinding, overall gum health or your child's level of hygiene conscientiousness could also nix it as a viable option.
Either choice will effectively replace your child's missing tooth until it's time for a permanent restoration. We'll help you weigh all the factors to determine which one is best for your situation.
If you would like more information on restoration options for teens, please contact us or schedule an appointment for a consultation.
By Dr. Rosanne M. Palermo
October 12, 2017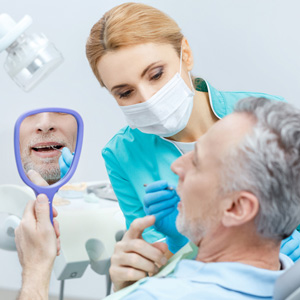 Today's healthcare patients are asking questions. They want to know the "why" behind the "what" that their care providers are recommending for their health.
There's a similar trend in dentistry — and it's one we dentists encourage. We want you to know the "why" behind your treatment options — because you're as much a participant in your own dental health as we are. The more informed you are, the better equipped you'll be to make decisions to maintain or improve your health and the appearance of your smile.
As your dental care partner, it's also essential we help you develop a long-term care plan based on your needs. There are aspects of dental care that are routine: daily brushing and flossing, an oral-friendly diet, and regular dental cleanings and checkups to assess your oral health. But we also need to think strategically, especially if you have risk factors that could impact your future dental health.
To do this we follow a four-step dental care cycle. In Step 1 we identify all the potential risk factors you personally face. These include your potential for dental disease, which could lead to bone and tooth loss, and the state of your bite and jaw structure that could complicate future health. We'll also take into account any factors that could now or eventually affect your smile appearance.
Once we've identified these various factors, we'll then assess their possible impact on your health in Step 2, not just what may be happening now but what potentially could happen in the future. From there we move to Step 3: treating any current issues and initiating preventive measures to protect your future health.
In Step 4 we'll monitor and maintain the level of health we've been able to reach with the preceding steps. We'll continue in this stage until we detect an emerging issue, in which we'll then repeat our cycle of care.
Maintaining this continuum will help reduce the chances of an unpleasant surprise in your dental health. We'll be in a better position to see issues coming and help reduce their impact now so you can continue to have a healthy mouth and an attractive smile.
If you would like more information on planning your dental treatment, please contact us or schedule an appointment for a consultation. You can also learn more about this topic by reading the Dear Doctor magazine article "Successful Dental Treatment: Getting the Best Possible Results."