Posts for tag: braces
By Dr. Rosanne M. Palermo
February 26, 2019
While braces are a tried and true method for achieving a more attractive smile, they may also give rise to problems with dental disease. This is because their hardware — the brackets and bands that serve as tracks for the tensioning wires — make it more difficult to access the tooth and gum surfaces to clean away plaque. This thin film of food remnant may then become a haven for bacteria that cause gum disease or tooth decay.
One of the more common conditions to occur while wearing braces is gingivitis. This is an initial inflammation of the gum tissues caused by bacterial plaque that hasn't been removed by brushing or flossing. As the inflammation grows unchecked, the infection could advance deeper into the tissues to become a more serious form of gum disease that threatens the survival of affected teeth.
Difficult as it may be for those wearing braces, the best way to avoid gingivitis is through more thorough oral hygiene practices. Fortunately, there are many hygiene products that can help you get around many of the access difficulties posed by braces. Smaller toothbrushes known as interproximal brushes and floss threaders, small aids that thread dental floss under braces wires, can access the spaces between teeth more readily than conventional brushes or floss. Water flossers (which use water under pressure to remove plaque between teeth) and motorized toothbrushes can further increase efficiency. We can also reduce bacterial growth in the mouth if need be with prescription-strength antibacterial mouthrinses.
If, however, gingivitis or gum overgrowth (another common occurrence during orthodontic treatment) continues to be a problem, we may need to take other actions including surgery. In extreme cases, the braces may need to be removed to adequately treat the gums and allow them time to heal before proceeding with orthodontics.
Extra care with daily hygiene and regular dental checkups and cleanings in addition to your orthodontic visits will help keep gum problems at bay while you're wearing braces. Taking this extra care will stop or minimize the effect of disease as you continue on to the ultimate goal of your orthodontic treatment — a more beautiful smile.
If you would like more information on dental care during orthodontic treatment, please contact us or schedule an appointment for a consultation.
By Dr. Rosanne M. Palermo
July 30, 2018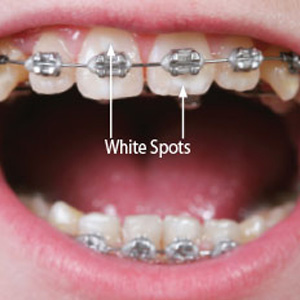 Braces can be a long, involved process, but gaining a more attractive smile and better oral health is worth it. Sometimes, though, braces can produce unintended short-term consequences.
Brace brackets and wires do the work of moving teeth to better positions. They can, however, hinder the wearer's hygiene efforts to remove plaque, a thin film of bacteria and food particles, from tooth surfaces. Plaque buildup increases the risk of dental disease and other ill effects.
One such effect while you're wearing braces is the formation of tiny spots that look pale and chalky on otherwise smooth and polished enamel. These are white spot lesions (WSLs), where acid has remained for too long on the tooth enamel. They occur because acid-producing bacteria escape removal during brushing and flossing due to the braces hardware.
We want to try to prevent WSLs while wearing braces, and not just because they're unattractive. You're actually looking at enamel erosion, which could lead to cavity development at those weakened spots.
Although difficult for you as a braces wearer, daily brushing and flossing is crucial to WSL prevention. You'll need to take more time to be sure you're reaching all around the wires and brackets. You can improve your effectiveness with special brushes for braces and floss threaders or water irrigators. You can also help keep acid levels low by cutting back on acidic foods and beverages, especially sodas, coffee or spicy foods.
Even if you develop WSLs we can treat them effectively, especially if caught early. One way is by aiding enamel re-mineralization through saliva stimulation (the mouth's acid neutralizer) or applying fluoride to the teeth to strengthen enamel. We can also use caries infiltration, a technique that injects tooth-colored resin below the surface of the lesion. This strengthens the weakened enamel and gives the area the appearance of translucence like normal enamel.
While you're wearing braces, focus diligently on keeping your teeth clean of plaque and keep up your regular cleaning visits with us. If you notice any unusual discolorations or abnormalities, see us as soon as possible. Stopping WSLs from developing will help ensure your teeth are healthy and attractive after the braces come off.
If you would like more information on dental care with braces, please contact us or schedule an appointment for a consultation. You can also learn more about this topic by reading the Dear Doctor magazine article "White Spots on Teeth during Orthodontic Treatment."
By Dr. Rosanne M. Palermo
June 06, 2017
Magician Michael Grandinetti mystifies and astonishes audiences with his sleight of hand and mastery of illusion. But when he initially steps onto the stage, it's his smile that grabs the attention. "The first thing… that an audience notices is your smile; it's what really connects you as a person to them," Michael told an interviewer.
He attributes his audience-pleasing smile to several years of orthodontic treatment as a teenager to straighten misaligned teeth, plus a lifetime of good oral care. "I'm so thankful that I did it," he said about wearing orthodontic braces. "It was so beneficial. And… looking at the path I've chosen, it was life-changing."
Orthodontics — the dental subspecialty focused on treating malocclusions (literally "bad bites") — can indeed make life-changing improvements. Properly positioned teeth are integral to the aesthetics of any smile, and a smile that's pleasing to look at boosts confidence and self-esteem and makes a terrific first impression. Studies have even linked having an attractive smile with greater professional success.
There can also be functional benefits such as improved biting/chewing and speech, and reduced strain on jaw muscles and joints. Additionally, well-aligned teeth are easier to clean and less likely to trap food particles that can lead to decay.
The Science Behind the Magic
There are more options than ever for correcting bites, but all capitalize on the fact that teeth are suspended in individual jawbone sockets by elastic periodontal ligaments that enable them to move. Orthodontic appliances (commonly called braces or clear aligners) place light, controlled forces on teeth in a calculated fashion to move them into their new desired alignment.
The "gold standard" in orthodontic treatment remains the orthodontic band for posterior (back) teeth and the bonded bracket for front teeth. Thin, flexible wires threaded through the brackets create the light forces needed for repositioning. Traditionally the brackets have been made of metal, but for those concerned about the aesthetics, they can also be made out of a clear material. Lingual braces, which are bonded to the back of teeth instead of the front, are another less visible option. The most discrete appliance is the removable clear aligner, which consists of a progression of custom-made clear trays that reposition teeth incrementally.
How's that for a disappearing act?!
If you would like more information about orthodontic treatment please contact us or schedule an appointment for a consultation. You can also learn more about the subject by reading the Dear Doctor magazine article "The Magic of Orthodontics."