Posts for tag: orthodontics
By Dr. Rosanne M. Palermo
March 22, 2020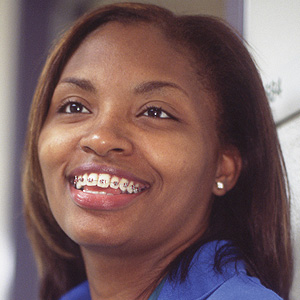 You've had crooked teeth since you could remember. Perhaps you and your parents talked about braces when you were a teenager, but it never happened. Now you're well into your adult years and you're comfortable with how you look — so why go through the expense and time now to have them straightened?
There's a good reason to consider orthodontics at any age — improved health. While we mainly associate teeth straightness with an improved smile, the more serious impact of misaligned teeth is on function — how we bite, chew and speak. As with many other areas of life, good form usually makes for good function. When we have crooked teeth, we may not be able to chew our food properly or speak as well as we could if our teeth were aligned properly.
Misaligned bites (malocclusions) can also have an impact on individual tooth health. Because they don't interact efficiently with their opposing counterparts during chewing or biting, teeth can become loose or migrate further out of alignment.
While improvement in oral health is the primary reason for considering treatment for a malocclusion, don't discount the benefit of orthodontics to your appearance. Your smile impacts many aspects of your life, including career and social relationships. A straighter, more attractive smile could also boost your self-confidence: even if you think you've grown accustomed to your smile, straightening your teeth could vastly change how you view yourself and how you believe others view you.
And if you're dreading the look and feel of metal braces, orthodontic treatments have made giant strides in the last few decades. Clear aligners, for example, are much less noticeable than traditional fixed braces (and can be removed for special occasions), but still effective for moving teeth. There's never been a better time to consider straightening your teeth — and change the course of your health and your life.
If you would like more information on orthodontics for adults, please contact us or schedule an appointment for a consultation. You can also learn more about this topic by reading the Dear Doctor magazine article "Why Straighten Teeth."
By Dr. Rosanne M. Palermo
December 04, 2017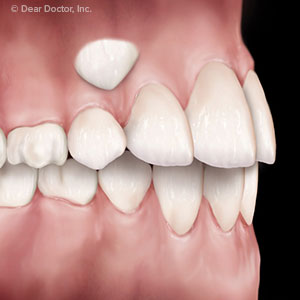 What makes an attractive smile? Of course, shiny, straight and defect-free teeth are a big factor. But there's another equally important element: all your teeth have come in.
Sometimes, though, they don't: one or more teeth may remain up in the gums, a condition known as impaction. And if they're in the front like the upper canines (the pointed teeth on either side of the front four incisors) your smile's natural balance and symmetry can suffer.
Impaction usually happens due to lack of space on a small jaw. Previously erupted teeth crowd into the space of teeth yet to come in, preventing them from doing so. As a result the latter remain hidden within the gums.
While impaction can interfere with the smile appearance, it can cause health problems too. Impacted teeth are at higher risk for abscesses (localized areas of infection) and can damage the roots of other teeth they may be pressing against. That's why it's desirable for both form and function to treat them.
We begin first with an orthodontic examination to fully assess the situation. At some point we'll want to pinpoint the impacted teeth's precise location and position. While x-rays are useful for locating impacted teeth, many specialists use cone beam CT (CBCT) technology that produces highly detailed three-dimensional images viewable from different vantage points.
If the tooth is in too extreme a position, it might be best to remove it and later replace it with a dental impact or similar restoration once we've completed other necessary orthodontic treatment. But if the tooth is in a reasonable position, we might be able to "move" the tooth into its proper place in the jaw in coordination with these other tooth-movement efforts to make room for it.
To begin this process, an oral surgeon or periodontist surgically exposes the tooth crown (the normally visible portion) through the gums. They then bond a small bracket to the crown and attach a small gold chain. An orthodontist will attach the other end to orthodontic hardware that will exert downward pressure on the tooth to gradually bring it into normal position.
Dealing with impacted teeth of this nature is often part of a comprehensive effort to correct the bite. If we're successful, it could permanently transform both the smile and overall dental health.
If you would like more information on treating impacted teeth, please contact us or schedule an appointment for a consultation. You can also learn more about this topic by reading the Dear Doctor magazine article "Exposing Impacted Canines."
By Dr. Rosanne M. Palermo
June 06, 2017
Magician Michael Grandinetti mystifies and astonishes audiences with his sleight of hand and mastery of illusion. But when he initially steps onto the stage, it's his smile that grabs the attention. "The first thing… that an audience notices is your smile; it's what really connects you as a person to them," Michael told an interviewer.
He attributes his audience-pleasing smile to several years of orthodontic treatment as a teenager to straighten misaligned teeth, plus a lifetime of good oral care. "I'm so thankful that I did it," he said about wearing orthodontic braces. "It was so beneficial. And… looking at the path I've chosen, it was life-changing."
Orthodontics — the dental subspecialty focused on treating malocclusions (literally "bad bites") — can indeed make life-changing improvements. Properly positioned teeth are integral to the aesthetics of any smile, and a smile that's pleasing to look at boosts confidence and self-esteem and makes a terrific first impression. Studies have even linked having an attractive smile with greater professional success.
There can also be functional benefits such as improved biting/chewing and speech, and reduced strain on jaw muscles and joints. Additionally, well-aligned teeth are easier to clean and less likely to trap food particles that can lead to decay.
The Science Behind the Magic
There are more options than ever for correcting bites, but all capitalize on the fact that teeth are suspended in individual jawbone sockets by elastic periodontal ligaments that enable them to move. Orthodontic appliances (commonly called braces or clear aligners) place light, controlled forces on teeth in a calculated fashion to move them into their new desired alignment.
The "gold standard" in orthodontic treatment remains the orthodontic band for posterior (back) teeth and the bonded bracket for front teeth. Thin, flexible wires threaded through the brackets create the light forces needed for repositioning. Traditionally the brackets have been made of metal, but for those concerned about the aesthetics, they can also be made out of a clear material. Lingual braces, which are bonded to the back of teeth instead of the front, are another less visible option. The most discrete appliance is the removable clear aligner, which consists of a progression of custom-made clear trays that reposition teeth incrementally.
How's that for a disappearing act?!
If you would like more information about orthodontic treatment please contact us or schedule an appointment for a consultation. You can also learn more about the subject by reading the Dear Doctor magazine article "The Magic of Orthodontics."